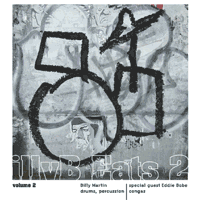 BILLY MARTIN
ILLY B EATS 2
The highly anticipated second volume of break beats from drummer, Billy Martin (a.k.a illy B) is finally available for eager fans awaiting to spin the breaks at clubs nation-wide.
CD & Vinyl (limited edition 500 copies)
Limited signed and silkscreened copies by illy B.
Only 99 copies signed numbered and printed! Order now.
As part of a remix series (Drop The Needle – Illy B Eats Remixes vol.1 & Breakbeats and Antidote – illy B Eats Remixed 2) DJ's and musicians whom use the Vol. 2 beats in original compositions will be asked to submit their contributions for consideration of Amulet Records on-going collaborative projects.
Billy Martin (aka illy B)
drums, percussion (talking drum, slit gongs, caxixi, bamboo, cowbells, jigglesticks)
Eddie Bobe
congas
INFORMATION & REQUIREMENTS ABOUT SUBMITTING YOUR (RE)MIX
| | |
| --- | --- |
| | Submission deadline: 2006 - NEW DATE TBA |
| | You must use a beat from the illy B Eats series (volume1,2, or3). |
| | You may process the beats in any way to fit your style (I.E. change tempo, change pitch, cut and paste beats together in any order, add other sounds, play instruments, sing, rap, use samples, etc...) |
| | Do not use other published music unless you have permission to use those samples. |
| | The submission can be an incomplete idea that you feel may have potential for a composition or collaboration. |
| | Check out previous submission reports from the last two remix projects |
| | Mail submission (CDr format preferred) to: illy Eats c/o Amulet, P.O.Box 311, Closter, NJ 07624-0311 |
| | Other questions? Need permission to use any of the illy B Eats for another project? email: eats@amuletrecords.com |